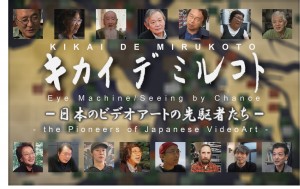 Art documentary on the early days of video art in Japan
"KIKAI DE MIRUKOTO(=Eye Machine/To See by Chance) -the Pioneers of Japanese Videoarts-"
VCT/VIDEOART CENTER Tokyo presents a documentary video "KIKAI DE MIRUKOTO- the Pioneers of Japanese Video Arts", with oral history and video pieces of early video artists in Japan.
VIDEO became to be a medium that to inspired us to discover the world…
In late 1960's, between Tokyo Olympic in 1964 and Osaka Expo in 1970, portable video equipment became available on the market, giving people an opportunity to shoot moving images and replay them immediately.
The documentary includes interviews with artists Katsuhiro YAMAGUCHI, Toshio MATSUMOTO, Fujiko NAKAYA, Takahiko IIMURA, Hakudo KOBAYASHI, Keigo YAMAMOTO, Ko NAKAJIMA, Nobuhiro KAWANAKA, Mako IDEMITSU, Sakumi HAGIWARA, Kohei ANDO, Canadian artist, Michael GOLDBERG, MoMA curator Barbara LONDON and Nam June PAIK's life partner, Shigeko KUBOTA, and his engineer, Shuya ABE. Including a range of excerpts of selected video art pieces, this documentary reflects on the meaning of "VIDEO" which originally had meant "I see" in Latin. We present the roots of media art from the islands that gave birth to Sony and Panasonic!
HDV,  80min, 2012, Region free/ALL
director: Kentaro TAKI, camera:Naoya OOE
presented by VCT/ VIDEOART CENTER Tokyo
supported by The Japan World Exposition 1970 Commemorative Fund
Appearing Artist:
Shuya ABE, Kohei ANDO, Michael GOLDBERG, Sakumi HAGIWARA, Mako IDEMITSTU, Takahiko IIMURA, Nobuhiro KAWANAKA, Hakudo KOBAYASHI, Shigeko KUBOTA, Toshio MATSUMOTO, Ko NAKAJIMA, Fujiko NAKAYA, Katsuhiro YAMAGUCHI, Keigo YAMAMOTO, Morihiro WADA
Connected People:
Barbara LONDON, Yoshimi NARA, Tomohiro NISHIMURA, Ann ADACHI, Rebecca CLEMAN, Yoshitaka SHIMANO, Hiroaki SATO, Nariaki SASAKI, Keisuke OKI, Takashi ECHIGOYA, Yoshiharu HAMASAKI, Masayuki KAWAI, Yoshitomo MORIOKA, Peter WEIBEL(director of ZKM, Center of Mediaart in Karlsruhe, Germany),
official site: http://kikai-de-mirukoto.vctokyo.org/
contact us to:


————————————
featuring artist bio(A to Z):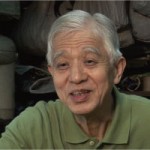 Shuya ABE
Born in Miyagi Prefecture, 1932. After graduating the Department of Physics and Department of Communication Engineering at Tohoku University, Abe entered the engineering department of Tokyo Broadcasting System Holdings, Inc. In 1963, Hideo Uchida, who was involved in the invention of transistor technology, introduced Abe to Nam June Paik and he began working with Paik for "Robot K-456" and "Paik Abe Video Synthesizer" as an engineer. He was a teacher in CAL Arts and Musashino Art University. After Paik's death, he has worked on the preservation of Paik's early video art pieces.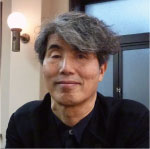 Kohei ANDO
Born in Tokyo, 1944. After graduating the Department of Science and Technology, Waseda University, Ando joined the theatre troupe "Tenjyo Sajiki." Shuji Terayama, the director of the troupe, encouraged Ando to start making films. In 1970, his film was selected for the International Short Film Festival Oberhausen and won a Grand-Prix in the short film section for the Thonon-les-Bains Film Festival, as well as winning some further awards at Hawaii International Film Festival and Monterey Electronic Cinema Festival since. His pieces are a part of museum collections in Paris, N.Y., London and Tokyo. Although he has directed some commercial films, his early works coincided with the early days of high-definition video and these include Einstein Came from the Other Side of the Evening Twilight (1994) and Whispers of Vermeer (1998). Solo retrospective exhibitions were held in Paris in 2001 and 2005.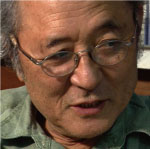 Takahiko IIMURA
Born in Tokyo, 1937. Beginning in the early 1960s with works such as Junk (1962) and Love (1962), Iimura also began performing with film projectors as a pioneer of expanded cinema in Japan. He spearheaded the experimental film collective "Film Independents" and who organised a group screening in Kinokuniya Hall in Tokyo in 1964. iimura had solo exhibitions and performance events in the Museum of Modern Art (1974) and Whitney Museum (1979), and has received critical accolade internationally as an independent filmmaker. His video art pieces include OBSEVER/OBSERVED (1975), AIUEON SIX FEATURES (1993) and SEEING/HEARING/SPEAKING (2001), and has been at the frontier of the media art scene since. His literary works include Between Art and Non-Art (Sanichi Shobo, 1970) and For Film Experiments (Seido-sha, 1986), and his DVD releases include  60s Experiments (2004) and MA/A Japanese Concept (2004).
http://www.takaiimura.com/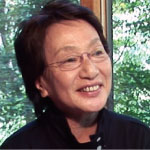 Mako IDEMITSU
Born in Tokyo, 1940. After graduating from the Department of Literature at Waseda University, Idemitsu relocated to the United States between 1965-1973, and lived with Sam Francis, a painter, in California. She was inspired by film collage pieces by Bruce Conner, who had been in communication with Francis, and she bought film camera and started making films. After having two children with Francis, she returned to Japan and started making videos. She won several prizes at video festival overseas, and her video pieces has been collected by some major museums that include the Museum of Modern Art, the Canadian National Gallery and the Centre Pompidou in Paris. Her literary works include What a Woman Made –A Biography of a Filmmaker- (Iwanami Shoten, 2003) and White Elephant (Fuun-sha , 2011).
http://www.makoidemitsu.com/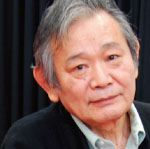 Nobuhiro KAWANAKA
Born in 1941, Kawanaka was involved in the founding of the Japan Filmmakers' Cooperative in 1968. After leaving the cooperative, Kawanaka founded the Japan Underground Center with Jushin Sato and began organizing screening events. In 1971, Kawanaka founded the Underground Center and opened a cinematheque in the Tenjyo Sajiki theater, managed by Shuji Terayama, and supported young filmmakers whilst publishing newsletters and organizing film festivals. He was also a teacher at Tokyo Zokei University and his literary works include The Adventures of Cinema and Daily Life (Film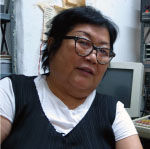 Shigeko KUBOTA
Born in 1937, Nigata Prefecture. After graduating Tokyo University of Education, Kubota relocated to the United States in 1960. In 1964 she joined Fluxus and began making videos. In 1972, she coordinated the first Women's Video Festival held in the Kitchen, New York, and the "Tokyo-N.Y. Video Express" in 1972. Besides supporting Paik's work, Kubota also worked in the construction of video sculptures. She made a tribute to Marcel Duchamp, which was selected to doCUMENTA6 (1977). After the passing of Paik, she has begun constructing video sculptures that honor the members of Fluxus, including Paik and George Maciunas.Art, 1975).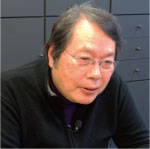 Hakudo KOBAYASHI
Born in Sendai city, 1944. After graduating Tama Art University in 1968, Kobayashi presented his Hakudo Machine series at Japanese Contemporary Art Exhibition and Osaka Expo 1970. In 1971 he organized communication games using Telex with Fujiko Nakaya and has worked in video media since. As well as teaching at Seian University, he has made single channel video pieces, organized a video community system in Kunitachi City in Tokyo and campaigned for CATV and Citizen Video.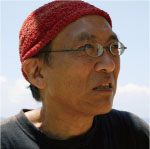 Ko NAKAJIMA
Born in Kumamoto City, 1941, Nakajima relocated to Tokyo from Kyushu in the 1960s where he learnt learning filmmaking and began making experimental animations. In 1970, he bought video camera and founded the video group Video Earth. Nakajima incorporates his unique take on video as a personal, vital and spiritual medium into his performances, documentaries and installations. Nakajima's MY LIFE series (1976-)  inspired Bill Viola's video installation Nantes Triptych (1992). Recently Nakajima had a retrospective in "Videoformes" in Clermont-ferrand, France, and has also presented large installations in New Zealand, where he also shot Rangitoto.
http://www.age.cc/~ko-ko-ko/blog/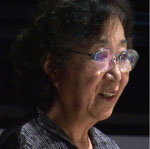 Fujiko NAKAYA
Born in Sapporo city, 1933, Nakaya participated in the Mist Sculpture project for the Pepsi Pavilion in Osaka Expo 1970. Since, she created environmental art and monuments using mists and has presented them around the world, collaborating with musicians and dancers. In the 1970s, Nakaya created video art pieces based on the theme of communication and opened video gallery SCAN that promoted video art in Japan. She has participated in several international events that include International Water Sculpture Competition (New Orleans, 1984), Valencia Biennial (Spain, 2001), E.A.T. -The Story of Experiments in Art and Technology (ICC, Tokyo, 2003), and has presented at the the Open Air Museum in Pedvāle (Latvia/2005) Guggenheim Museum (Bilbao, 1999). She has also collaborated with Trisha Brown (2002), Min Tanaka (2004) and Johann Johansson (2007).
http://www.processart.jp/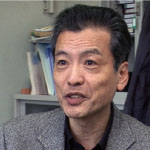 Sakumi HAGIWARA
Born in 1946, Tokyo. Hagiwara joined Tenjyo Sajiki, an experimental theater troupe directed by Shuji Terayama and directed La Marie Vision at the International Avant-Garde Theater Festival in Frankfurt. After leaving Tenjyo Sajiki, he joined the ranks of Ryoichi Enomoto, Hiroshi Yamazaki, Kohei Ando and began making experimental films on the themes of time and memory. He visited the United States in 1972 and, after returning to Japan, he gave a lecture about the contemporary video art scene at the American Culture Center. Inspired by cultural magazines in New York, he became the chief editor of Bikkuri House magazine of Parco Publishing and led the Parco and Shibuya sub-culture phenomenon. He is now Chief Professor of Department of Moving Images and Performing Arts at Tama Art University, and continues to work in photography, video and writing.
http://sakumihagiwara.sub.jp/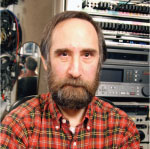 Michael GOLDBERG
Born in 1945, Montreal, Canada. During his first visit to Japan in 1971, Goldberg introduced video artists to Sony and organized the Do It Yourself Kit exhibition in 1972 that was hugely influential for the rise of the video art in Japan. He relocated to Japan in 1982 and founded the International Video Works. He directed the documentary A Zen Life –D.T. Suzuki on the master of Zen philosophy, Daisetsu Suzuki. The documentary screened at the Boulder Asian Film Festival, Vancouver International Film Festival, Hawaii International Film Festival, Columbus International Film and Video Festival.
International Video Works:http://www.ivw.co.jp/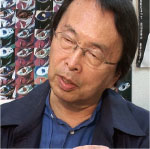 Toshio MATSUMOTO
Born in Nagoya City, 1932. After graduating Tokyo University in 1955, he joined the production company Shin Riken where he directed his first documentary film Senkan (1956). After leaving the company, he wrote criticism and theoretical texts for Kiroku Eiga (Documentary Film) and edited the monthly magazine Eiga Hihyo (Film Criticism). His documentary films include Anpo-Jyoyaku (US-Japan Security Treaty, 1959), Nishijin (1961) and Ishi no Uta (The Song of Stone, 1963). He has been making experimental films since 1963 and his feature-length films include Funeral Parade of Roses (1969), Pandemonium (1971), Dogura Magura (1988). In Osaka Expo 1970, he directed Space Projection Ako at the Senni-kan Pavillion.  His subsequent experimental films [JR1] include Metastasis (1971), Atman (1975) and Ki – Breathing (1980). He also organised media performances that used video technology in the 1980s. His literary works include Eizo no Hakken (San'ichi Shobo, 1963), Eizo no Tankyu (San'ichi Shobo, 1991),  and Genshi no Bigaku (Film Art, 1976 ). More recently he directed the omnibus film Toro no Ono- trilogy- with 6 young film and video-makers.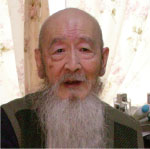 Katsuhiro YAMAGUCHI
Born in Tokyo, 1928. After graduating the Law Department of Nihon University, Yamaguchi organized Jikken Kobo (Experimental Workshop) in 1951 with Shozo Kitadai, Toru Takemitsu and others whom he had met through the critic Shuzo Takiguchi. He made the optical-light painting series Vitrene as well as Optical Sculpture that was made with acrylic resin. In 1968, he represented Japan at the Venice Biennial and showed KISS. He was the chief producer of the Mitsui Group Pavilion in Osaka Expo 1970. He was involved in the founding of the video art group Video Hiroba in 1972 and the high-tech art group Art Jeunis in 1982.  His works and environmental pieces have encompassed many different media. A retrospective exhibition was held at The Museum of Modern Art, Kanagawa, in 2006. His literary works include Robot Avant-Garde (Parco, 1985) and Tenjin Festival of Media Age (Bijyutsu Shuppan, 1992)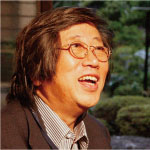 Keigo YAMAMOTO
Born in Fukui Prefecture in 1936. Since making video pieces in 1968, Yamamoto has made interactive video installation series that sought to explore the relationship between art and communication networks. Yamamoto was selected for doCUMENTA6 (1977) and was part of the jury for doCUMENTA8 (1987). He presented his 'Linked-painting' series at the An Encounter of Paper and Electric Media exhibition (1989). His subsequent overseas exhibitions include The International Mobile Electronic Cafe presented at doCUMENTA9 in 1992 and Casino Container at the Venice Biennale in 1993. In 1995, he was invited to exhibit his works at Kwangju Biennale. Recently he has been working on the network event Voice of the Moon.
http://www.k–bit.net/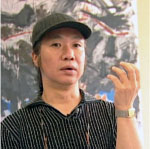 Morihiro WADA
Born in Kagawa pref. 1947. During his time as an undergraduate in the Faculty of Oil Painting, Tama Art University, Wada held several exhibitions of his paintings, drawings, photographs, videos and installations.  In the 70s and 80s, he took part in Japan Art Festival, Today's Artist (Yokohama Civic Art Gallery), EXHIBISM (Kanagawa Prefectural Gallery), and THE NEW VIDEO:JAPAN (the Museum of Modern Art). He suddenly passed away in 2007 at the age of 59. His retrospective exhibition was held at the Kanagawa Prefectural Gallery in 2009.
————————-
director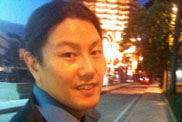 Kentaro TAKI
Born Osaka,Japan in '73. In '96 Completion, Master degree of fine arts of 'Master course of Department of Imaging Arts and Sciences Musashino Art University.As dispatched artist granted by Cultural Agency of Japan('02), POLA Art Foundation ('03) in Karlsruhe. Germany.Won prizes as "Graz BIX Media Competition" Grand Prix + Peter Cook Prize double winner('05, Graz, Austria), "Bochum Video Festival Organizer Prize"('05, Bochum, Germany).He works as a director of VIDEOART CENTER Tokyo. Artist site: http://www.takiscope.jp